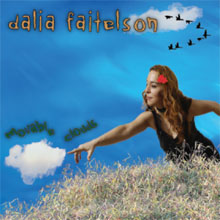 For more information
please contact:
Enter Media Publishing
Jürgen Enninger
Ehrwalder Str. 6
D - 81377 Munich
Fon: ++49 (0) 89 78 07 17 71
Fax: ++49 (0) 89 78 07 17 72
Email: info@musicworx.biz
www.musicworx.biz
Dalia Faitelson - guitars and vocal; Lelo Nika - accordion; Anders Banke - saxes and clarinets; Thommy Andersson - bass; Ayi Solomon - percussion; Kristian Jørgensen - violin; Toke Møldrup - cello; Anders Hentze (track 1, 3 & 8) - drums; Studio Strings (track 2 & 7) - string quartet;
Dalia Faitelson was born in the Negev Desert of Israel to a Bulgarian mother and Israeli father. Her first impressions were of blazing sun, open space and the shades of the color brown. These impressions will follow her always:
Throughout Dalia's musical career her idea has been to create a truly global sound by trying to reach a natural fusion between top professional musicians from diverse cultural background. A unique blend of "East meets West", subtle and sublime, oriental rhythm woven together with elements of Ethnic, Jazz; Middle Eastern and Rock.
Dalia's local band "Common Ground" includes: Dalia Faitelson (guitars, vocal), Lelo Nika (accordion), Thommy Andersson (bass) and Ayi Solomon (percussion.).
The band has been touring and recording under the name "Dalia Faitelson's Global Sound" with international names as: Randy Brecker, Jerry Bergonzi, Adam Nussbaum, Chris Cheek and Manolo Badrena.
"Global Sound" won the Danish Grammy award 2000 for their first album release "Diamond of the Day".