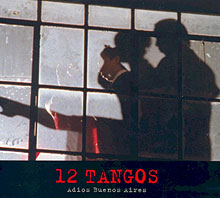 For more information
please contact:
Enter Media Publishing
Jürgen Enninger
Ehrwalder Str. 6
D - 81377 Munich
Fon: ++49 (0) 89 78 07 17 71
Fax: ++49 (0) 89 78 07 17 72
Email: info@musicworx.biz
www.musicworx.biz
Links:
Luis Borda
Website "12 Tangos"
Tango is the life. That is the view of director Arne Birkenstock who pays tribute to this dance of melancholy with his new film 12 Tangos. It is "an approach to the soul of Tango", said Birkenstock. Responsible for the musical part was the composer and guitar player Luis Borda.
Tango is not only crisis, deprivation, and lack of hope. Tango is joy, getting together and pleasure, yearning and help as well. Tango is life. That is what its protagonists show together with the music which Borda made up for some of the best Argentinian musicians to an orchestra. Borda arranged and recorded 16 Tangos exclusively for this production. He re-arranged classics like Adios Nonino, Sur, Milonga de mis amores, La Puñalada, and El Choclo.
The artists seem like a "Who is who" of the contemporary Argentinian music scene. Along with 92 year old Maria de la Fuente sing Lidia Borda—who was called the "best Tango singer today" by Rolling Stone magazine—, Gabriel Menendez, Jorge Sobral, and Eduardo Borda. The film shows the last two records of the legendary José Libertella and the great voice of Tango Jorge Sobral. Both died unexpectedly some weeks after finishing the shooting programme. Libertella is the founder of the well-know Sexteto Mayor. Also part of the film are Julio Pane who is one of the most important exponents of the so called Tango nuevo, and Pablo Mainetti (Bandoneon), who was recently nominated for the Latin Grammy.
The film shows "what forever was the center of Tango, of its texts and its music: people with such a lack of perspective that they are up to leave their own country to meet a uncertain future far away from home" says Birkenstock.
The soundtrack of the film is available from enja-records.